Sooyoung dan Sohee yang merupakan personel girlband papan atas Korea, SNSD dan Wonder Girls. Namun, bagaimana jika mereka mengenakan pakaian yang sama.
Salah satu fans mereka mengunggah foto yang menampilkan kemiripan baju yang dipakai kedua gadis cantik ini.
Gaun hitam mini dengan kantung lengan lebar dan kerah lebar juga ini dipakai Sohee saat menghadiri sebuah kuis di stasiun televisi MBC bertajuk "Quiz that Changes the World". Sohee memadukannya dengan tatanan rambut curly dan centil sehingga memberi kesan pakaian yang ia kenakan lucu.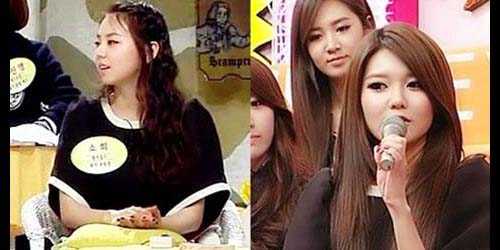 Berbeda dengan Sohee, Sooyoung lebih memilih untuk tampil elegan. Saat mengenakan gaun itu, ia membiarkan rambutnya terurai dan make up kalem. Kesan yang diinginkan Sooyoung benar-benar didapatnya. tak hanya itu, Sooyoung juga boleh berbesar hati, karena hasil polling sementara yang diadakan AllKpop menobatkan ia sebagai "Yang Paling Pantas" mengenakan gaun itu. Sooyoung memperoleh lebih dari 70% suara, sedang Sohee harus puas dengan 29% suara.
Sooyoung 'SNSD' dan Sohee 'Wonder Girls' Pakai Kostum Sama | showbiz.infospesial.net
rarhawokee 04 Jan, 2012