Jangan lagi berharap bisa mendapat uang melimpah dengan coba-coba mencuri kerangka penulis drama ternama, William Shakespeare atau coba-coba menyimpannya sendiri agar dapat tertular kemahirannya dalam menulis.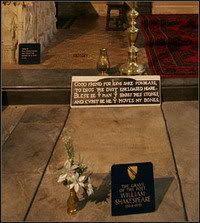 Shakespeare sudah menduga dan memperkirakan betul bagaimana perilaku keserakahan manusia di masa-masa mendatang. Karena itu Shakespeare sudah menyiapkan sebuah kutukan untuk melindungi dirinya di saat sudah meninggal.
Kutukan yang diukir pada kuburan Shakespeare inilah yang mungkin telah menyelamatkan kerangkanya dari penggalian.
Penggalian tulang orang mati biasa terjadi pada masa Shakespeare, baik untuk tujuan keagamaan atau penelitian. Kerangka yang ditemukan seringkali diangkat untuk memberi jalan bagi kuburan lain dan ditimbun di tempat penimbunan tanah atau bahkan digunakan sebagai pupuk.
Melihat fakta itu, dramawan Inggris tersebut menjadi sangat khawatir peristiwa semacam itu akan terjadi pada kerangkanya sendiri sehingga dia meminta dituliskan sebuah kutukan di makamnya di Holy Trinity Church, Stratford-on-Avon, sebagai peringatan bagi penggali kuburan setelah ia meninggal pada 1616.
"Good frend for Jesus sake forebeare,/ To digg the dust encloased heare;/ Bleste be the man that spares thes stones,/ And curst be he that moves my bones," demikian tulisan yang terpatri di makam penulis The Four Tragedies tersebut. Kalimat kutukan terlihat di kalimat terakhir "And curst be he that moves my bones" ("Dan terkutuklah dia yang memindahkan tulang-tulangku").
Dr. Philip Schwyzer, dosen senior di Exeter University, berkata, "Shakespeare memiliki obsesi yang tak biasa dengan pemakaman dan kekhawatiran bahwa kuburannya akan digali orang. Prasasti keras di batu nisan setidak ikut bertanggung jawab atas kenyataan bahwa tidak ada proyek yang berhasil untuk membuka kuburan itu."
Schwyzer, yang menyelidiki gagasan dalam buku baru "Archeologies of English Renaissance Literature", menambahkan, "Tulisan di batu nisannya menandai pernyataan terakhirnya yang tak kenal kompromi mengenai pendapat yang memenuhi pikirannya sepanjang karirnya sebagai penulis drama."
Mimpi buruk pribadi digambarkan dalam karya seperti Hamlet, Romeo and Juliet dan Richard III.
Kecemasan mengenai perlakuan buruk atau penggalian mayat ditemukan di setidaknya 16 dari 37 drama. Dari sana terlihat keprihatinan ini seringkali terlihat dibandingkan dengan kekhawatiran mengenai kematian itu sendiri.
SUMBER
:joget2::joget2::joget2:
babypurples 15 Feb, 2012