Kecantikan dan keseksian artis Korea Clara memang sudah tak diragukan lagi, namun bagaimana bila anda melihat artis nan cantik dan seksi ini memakai sebuah bikini ? pastinya taka hanya anda, orang lain yang melihatnya pun akan heboh. Dan itulah yang terjadi sekarang, Clara sedang menjadi bahan perbincangan panas saat ini, karena ia tampil seksi dengan mengekspos tubuhnya di serial drama TAKE CARE OF US, CAPTAIN.
Artis yang memiliki nama asli Lee Seong Min ini, sempat pula menghebohkan para penggemarnya ketika ia mengenakan gaun hitam ketat, namun respon lebih besar muncul kala SBS menampilkan preview foto bikininya dari episode minggu ini dari serial drama tersebut. Clara terlihat berjalan di sekitar kolam renang dengan mengenakan bikini one piece berwarna hitam.
"Aku berpikir cukup lama untuk mengenakan pakaian renang tersebut, dan akhirnya memutuskan memakai satu bikini hitam yang unik, serta berkelas. Aku merasa nervous memamerkan tubuhku, namun aku juga ingin tahu bagaimana hasilnya di drama ini. Secara keseluruhan ini pengalaman yang menyenangkan," ungkapnya seperti dilansir Allkpop.
Dalam serial drama ini Clara berperan sebagai Hong Mi Joo, satu wanita tangguh yang memiliki posisi sebagai managing director of business strategy di perusahaan penerbangan Wings Air.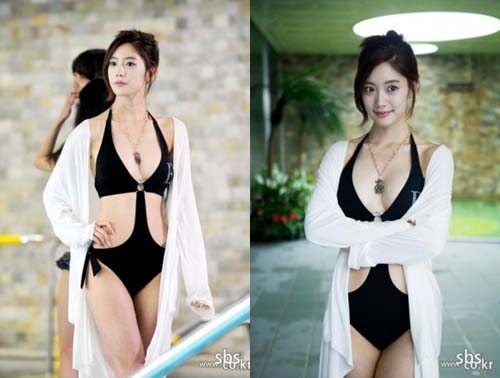 Clara Tampil Berbikini di Serial Drama 'Take Care Of Us, Captain'
rarhawokee 13 Jan, 2012