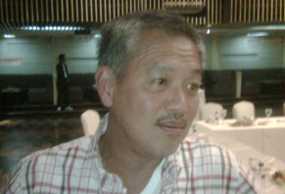 Si Tomy Winata
Jakarta
- Pengusaha nasional Tomy Winata melalui Artha Graha Network menjadi pemrakarsa proyek pembangunan Jembatan Selat Sunda (JSS) atau Kawasan Strategis dan Infrastruktur Selat Sunda (KSISS). Tomy mengaku sudah melakukan penjajakan ke berbagai investor sebagai bagian untuk memuluskan mega proyek ini.
Tomy menuturkan diantaranya yang sudah menyatakan kesiapannya membiayai mega proyek senilai Rp 100 triliun lebih ini adalah Bank Badan Usaha Milik Negara (BUMN) China. Selain China, ada investor swasta dari Korea Selatan (Korsel) yang tak bisa sebutkan namanya, yang juga berminat membiayai proyek ini.
"Memang yang sudah menyampaikan minat dan siap mendukung finance-nya kepada kami diantaranya RRT (China), Korea, Jepang, Amerika, Singapura, Malaysia yang sudah ada meeting noted nya menyatakan siap ke kami, adalah BUMN Bank RRT, serta swasta Korea Selatan," katanya kepada detikFinance, Minggu (12/2/2012)
Meski demikian, ia menegaskan yang menentukan siapa investor atau mitra dari proyek ini akan ditentukan oleh pemenang tender KSISS/JSS. Walaupun secara peluang, konsorsium Artha Graha Network bersama Pemda Lampung-Banten mendapat hak keistimewaan atau right to match sebagai pemrakarsa untuk berpeluang sebagai pemenang tendernya.
"Pembangunan KSISS/JSS masih dalam proses FS (feasibility study) dan rencana partner pembangunannya tergantung pada pemenang tender nanti," katanya.
Seperti diketahui Artha Graha Network masuk dalam konsorsium Pemda Banten-Lampung yang menjadi pemrakarsa proyek Jembatan Selat Sunda (JSS). Sebagai pemrakarsa, konsorsium mendapat tugas pemerintah untuk menyiapkan persiapan proyek termasuk studi kelayakan atau feasibility study (FS).
Tomy Winata sebelumnya mengatakan pihaknya masih menghitung secara detil soal biaya yang harus dikeluarkan terkait FS proyek JSS. Namun secara kasar, berdasarkan standar internasional membutuhkan dana 3-4% dari total proyek yang nilainya Rp 100 triliun atau Rp 3-4 triliun.
Ia juga telah merogoh koceknya sebesar US&36; 40 juta untuk modal pra-studi kelayakan (pra FS) pembangunan JSS. Pra studi kelayakan merupakan tahap awal sebelum fase FS, pemerintah memberi waktu 2 tahun kepada pemrakarsa menyelesaikan FS JSS sebagai bagian dari persiapan proyek.
Dalam Peraturan Presiden No. 86 Tahun 2011 tentang Pengembangan Kawasan Strategis dan Infrastruktur Selat Sunda diatur beberapa hal antaralain penyiapan proyek keseluruhan harus selesai dalam jangka waktu paling lama 24 (dua puluh empat) bulan sejak penandatanganan perjanjian kerjasama.
Selain itu jika pemrakarsa dalam hal ini konsorsium Banten-Lampung dan Artha Graha tidak menjadi pemenang pelelangan proyek, maka mereka berhak memperoleh kompensasi biaya penyiapan proyek termasuk Hak Kekayaan Intelektual yang menyertainya oleh pemenang tender.
Pada Perpres itu juga diatur pihak pemrakarsa (konsorsium) memperoleh prioritas untuk menjadi pemenang tender dengan kompensasi berupa tambahan nilai paling banyak sebesar 10% (sepuluh perseratus), atau hak menyamakan penawaran (right to match), atau pembelian prakarsa Proyek Kerjasama termasuk hak kekayaan intelektual yang menyertainya oleh pemenang lelang.
Selama proses persiapan proyek selama 2 tahun, pihak Tomy Winata dan Pemda Lampung-Banten, sesuai dengan Perpres tersebut harus menghasilkan beberapa hal, antara lain:
1. Studi Kelayakan dan Basic Design
2. Rencana bentuk kerjasama
3. Rencana pembiayaan proyek dan sumber dananya
4. Rencana penawaran kerjasama yang mencakup jadwal, proses dan cara penilaian
(hen/hen)
SUMBER
Awas ya, kalo sampe di korupsi
(author unknown) 12 Feb, 2012