Thank you for using
rssforward.com
! This service has been made possible by all our customers. In order to provide a sustainable, best of the breed
RSS to Email
experience, we've chosen to keep this as a paid subscription service. If you are satisfied with your free trial,
please sign-up today
. Subscriptions without a plan would soon be removed. Thank you!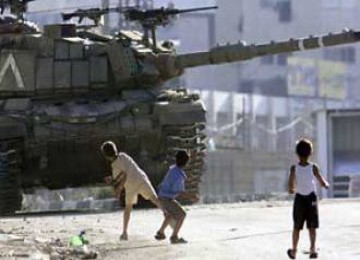 (lempaarrr...!!!)
REPUBLIKA.CO.ID
, Kecelakaan bus tragis yang menewaskan sekitar sembilan anak Palestina, justru disambut gembira oleh warga Israel. Hal ini diungkap oleh seorang warga, Laura Stuart, yang mengungkap beberapa percakapan dari bahasa Ibrani yang dikutipnya dari akun milik situs berita, Walla Israeli di facebook.
Benny: Tenang, yang mati cuma anak-anak Palestina.
Tali: Sepertinya mereka adalah anak-anak Palestina. Syukurlah.
Tal: Syukurlah, mereka cuma orang Palestina.
Ajala: Bagus, jumlah teroris berkurang!!!
Eliya: Hanya anak-anak Palestina yang tewas-sekitar sepuluh anak.
Itai: Syukurlah, itu anak-anak Palestina. Semoga setiap hari seperti ini.
Aleyah: Tenang, itu adalah bus yang membawa anak-anak Palestina. Mari berdoa mereka semua meninggal, atau setidaknya terluka. Ini adalah berita baik untuk memulai hari.
Stuart kemudian menulis bahwa semua komentar penuh kebencian ini, kini telah dihapus dari facebook. Dan beberapa orang mengaku takut dengan sikap rasis yang ditunjukkan melalui komentar-komentar tersebut.
Yang tidak kalah mengagetkan, lanjut Stuart, adalah pemberitaan BBC terkait kecelakaan ini. Dalam beritanya, BBC menuliskan bahwa meski truk yang menabrak bus itu berplat nomor 'Israel', namun tidak mungkin pengemudinya adalah seorang 'Israel'.
Saat artikel ini ditulis Stuart, telah dikonfirmasi bahwa pengemudi truk itu adalah seorang Arab 'Israel'. "Saya bertanya-tanya apa perlu menanyakan atau mengomentari kebangsaan atau etnis seorang pengemudi yang terlibat dalam kecelakaan?" tulis Stuart.
Sebuah kecelakaan bus tragis terjadi hari Kamis (16/ 2) pagi di Ramallah. Tabrakan antara bus dengan truk ini menewaskan sembilan anak Palestina dan seorang guru.
Bus yang tengah mengangkut anak-anak Palestina itu bertabrakan kencang dengan sebuah truk yang mengakibatkan bus terbalik dan terbakar. Selain korban tewas, puluhan penumpang juga dikabarkan menderita luka-luka.
Dua-duanya salah
,tapi Israel jelas lebih kejam...
(author unknown) 18 Feb, 2012